The best way to describe chocolate babka to someone who has never tried it is to say that it is "half bread, half cake, and 100% delicious." You won't be able to stop eating just one slice of this sweet and buttery yeast dough. The layered chocolate inside the babka bread makes each piece look so pretty.
Making babka bread from scratch may seem time-consuming because of the chocolate swirls, but the actual process is quite simple. The majority of the time spent in preparation is simply the dough rising in the refrigerator, so don't be put off by the seemingly lengthy process. If you follow my easy, step-by-step instructions below, you'll soon be baking homemade chocolate babka like a pro.
Materials Required for This Recipe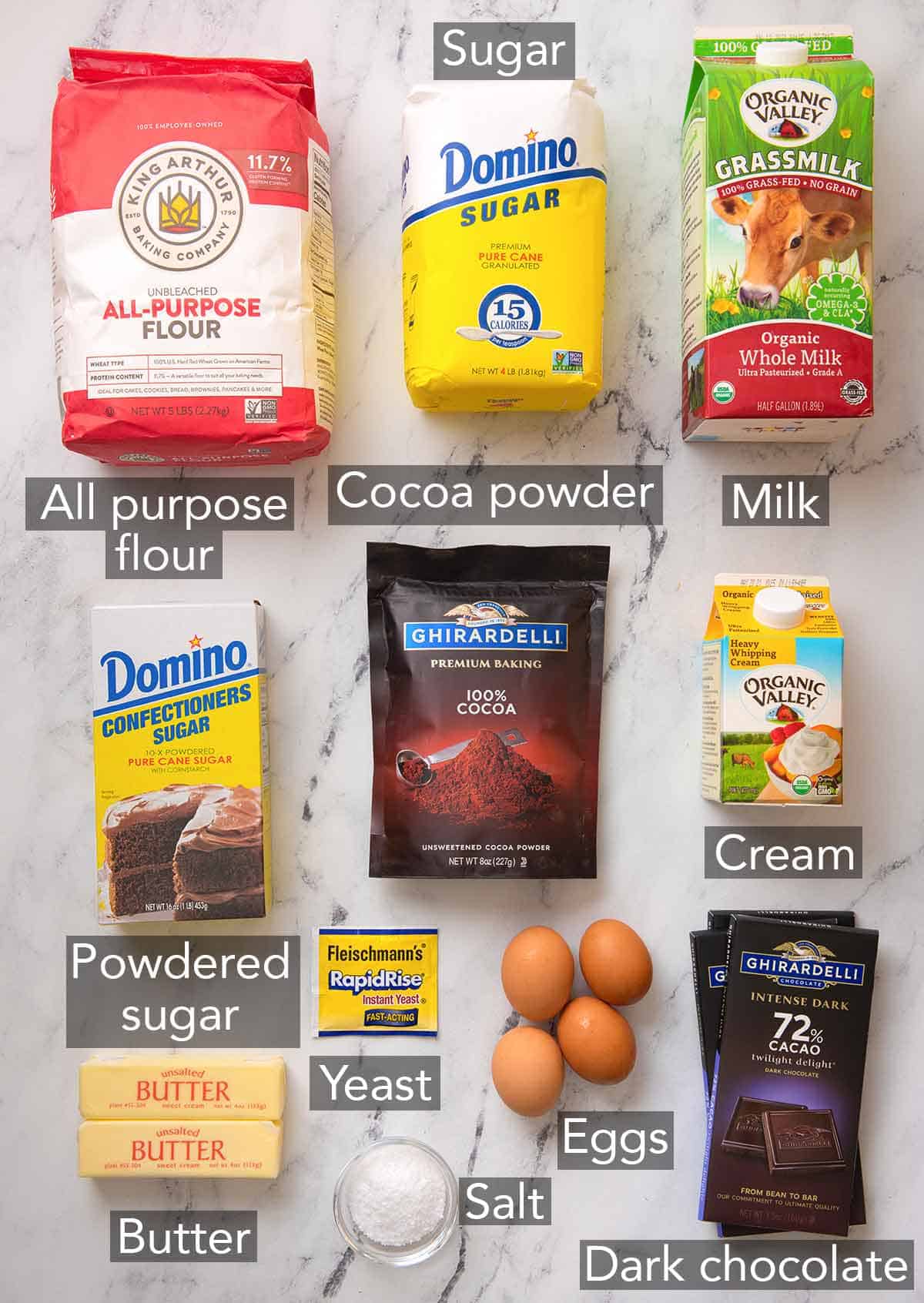 For this babka recipe, I prefer to use whole milk because of its higher fat content. You can substitute 2% milk if you don't have access to whole milk. Skim milk is not something I would recommend. The ideal temperature range for milk to thrive in yeast is between 110 and 120 degrees Fahrenheit.
To maintain consistency, use unsalted butter even though salt enhances the chocolate flavor in this bread. The salt content of salted butter varies among brands. When working with room temperature butter, it is easier to incorporate into the dough. When you press your finger into butter at room temperature, it should leave a small indentation.
Dark chocolate, chopped; chips aren't as good of a choice as bars because chips have less cocoa butter and extra stabilizers. It ought to be easier to break up the chocolate bar as well.
Ingredients
For the Dough:
▢4½ cups all-purpose flour (540g)
▢½ cup granulated sugar (100g)
▢2¼ teaspoons instant yeast (1 .25-ounce packet)
▢4 large eggs at room temperature
▢½ cup whole milk at room temperature
▢1½ teaspoons kosher salt
▢10 tablespoons unsalted butter room temperature (142g)
For the Filling:
▢½ cup unsalted butter cubed (113g)
▢½ cup heavy cream (120mL)
▢8 ounces chopped dark chocolate (225g)
▢¾ cup powdered sugar (90g)
▢⅓ cup unsweetened cocoa powder (30g)
For the Syrup:
▢⅓ cup granulated sugar (66g)
▢⅓ cup water (80mL)
BABKA: HOW TO MAKE IT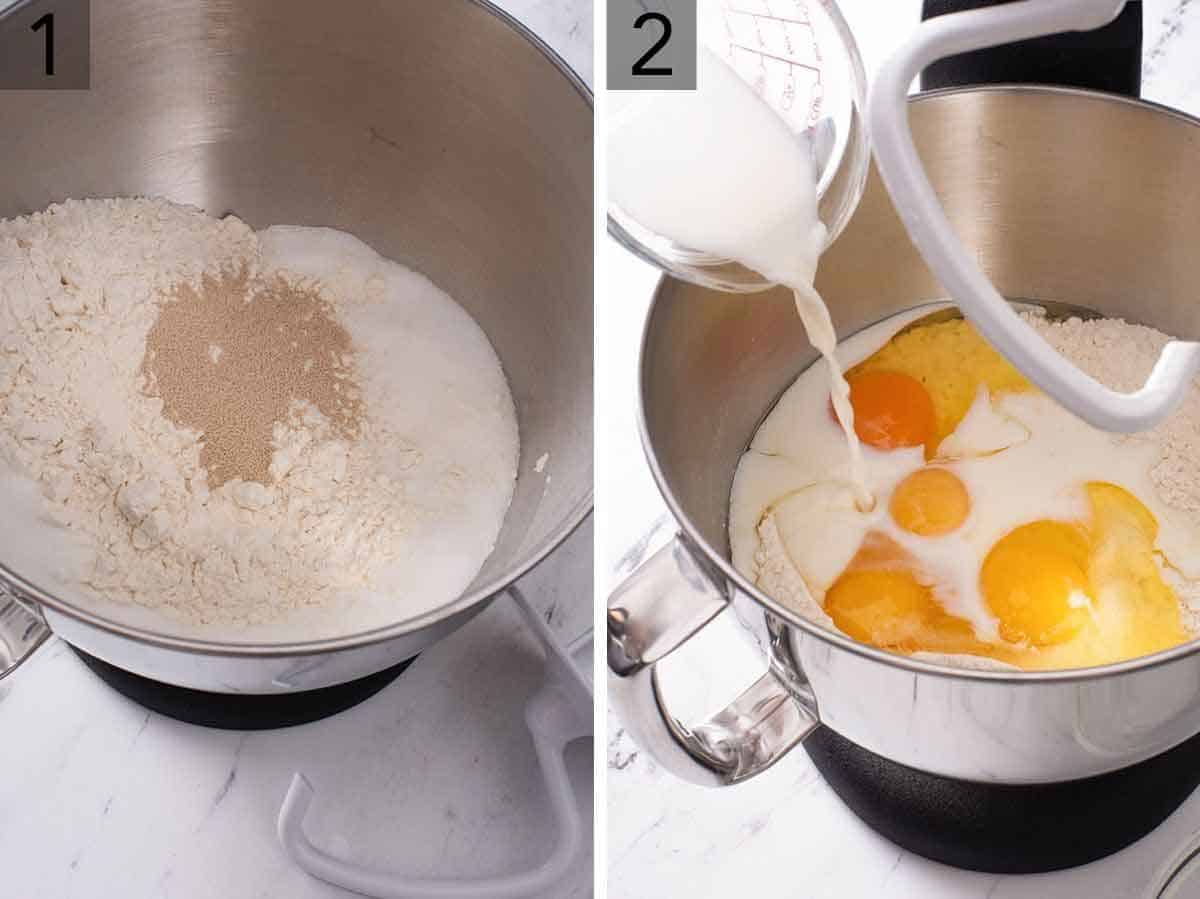 Flour, sugar, and yeast should all be mixed together in a stand mixer.
For about 2 minutes, on low speed with the dough hook attachment, mix in the eggs, milk, and salt until combined and a dough begins to form.
Drop the tablespoons of butter in as you go. Be patient while the butter melts in.
The dough is done when it is sticky but still very stretchy, so keep kneading for another 10 minutes.
Cover the dough while you move it to a large oiled bowl. Leave the dough out at room temperature for 8 hours, or in the fridge overnight.
When the dough is done, cut it in half and roll each piece into a 12 by 16-inch rectangle on a lightly floured surface.
To prepare the filling, combine the butter, cream, and sugar in a saucepan. After it has cooled and thickened, whisk in the cocoa powder and powdered sugar.
Roll out the dough and spread the chocolate filling on top with an offset spatula.
Pinch the dough together at the seam to seal it after rolling it into a tight coil from the narrow end. After that, split the dough in two along its length.
Before placing in a loaf pan, twist the halves together with the cut sides facing up. Bake for 40 minutes, or until golden, then cover and let rise again.
Expert Advice on Preparing This Dish
To activate yeast quickly, mix 2 tablespoons of the sugar with warm (110F) milk. Leave to foam, then incorporate into the dry ingredients.
Dutch-processed cocoa powder is my favorite kind. Darker, less acidic, and fudgier baked goods can be made with Dutch-processed cocoa powder. Hershey's and Ghirardelli are my favorites.
If you want to double-check that your babka loaf is done baking, use an instant-read thermometer to see if the temperature inside is at least 190 degrees Fahrenheit. If your toothpick is too short to reach the center of the loaf, this is the way to go.
Put the syrup on top at the very end. It adds a glossy finish to the babka's exterior and prevents the bread from becoming dry.
The babka dough can be mixed with a wooden spoon in a large bowl and then kneaded by hand if you don't have a mixer. A minimum of ten to fifteen minutes is required. If you're hand kneading, you don't want to add too much flour to the dough by dusting the counter with too much flour.
FAQ
DO YOU THINK BABKA IS A BRIOCHE?
While brioche dough is used in making babka, not all brioches are the same. Adding chocolate to a brioche does not transform it into a babka; rather, babkas are distinguished by the way the dough is shaped with the chocolate swirled inside.
When comparing BABKA and CHALLAH, WHAT IS THE DIFFERENCE?
Challah, on the other hand, is a traditional Jewish Sabbath and holiday-braided bread made with eggs, water, yeast, flour, sugar, and salt. A loaf pan is not required for baking challah. Babka is a yeast-based, egg-heavy hybrid of bread and cake that features chocolate or cinnamon swirls throughout the bread's interior and is baked in a loaf pan.
Download This Article + Recipe in PDF Format.