When I have bananas that have ripened too far and need to be used up, I now turn to this chocolate chip banana bread. One of the best flavor combinations is chocolate and banana, which you should try if you haven't already. Banana bread with lots of chocolate chips is amazing, and I love regular soft and delicious banana bread, but there's no denying that the extra chocolate makes it even better. A warm slice and a steaming mug of tea or coffee first thing in the morning is reason enough to drag yourself out of bed, right? You can eat this bread as a snack all week long because it keeps well for several days, and I can tell you how to store it so it won't dry out.
What Ingredients Are Needed for This Recipe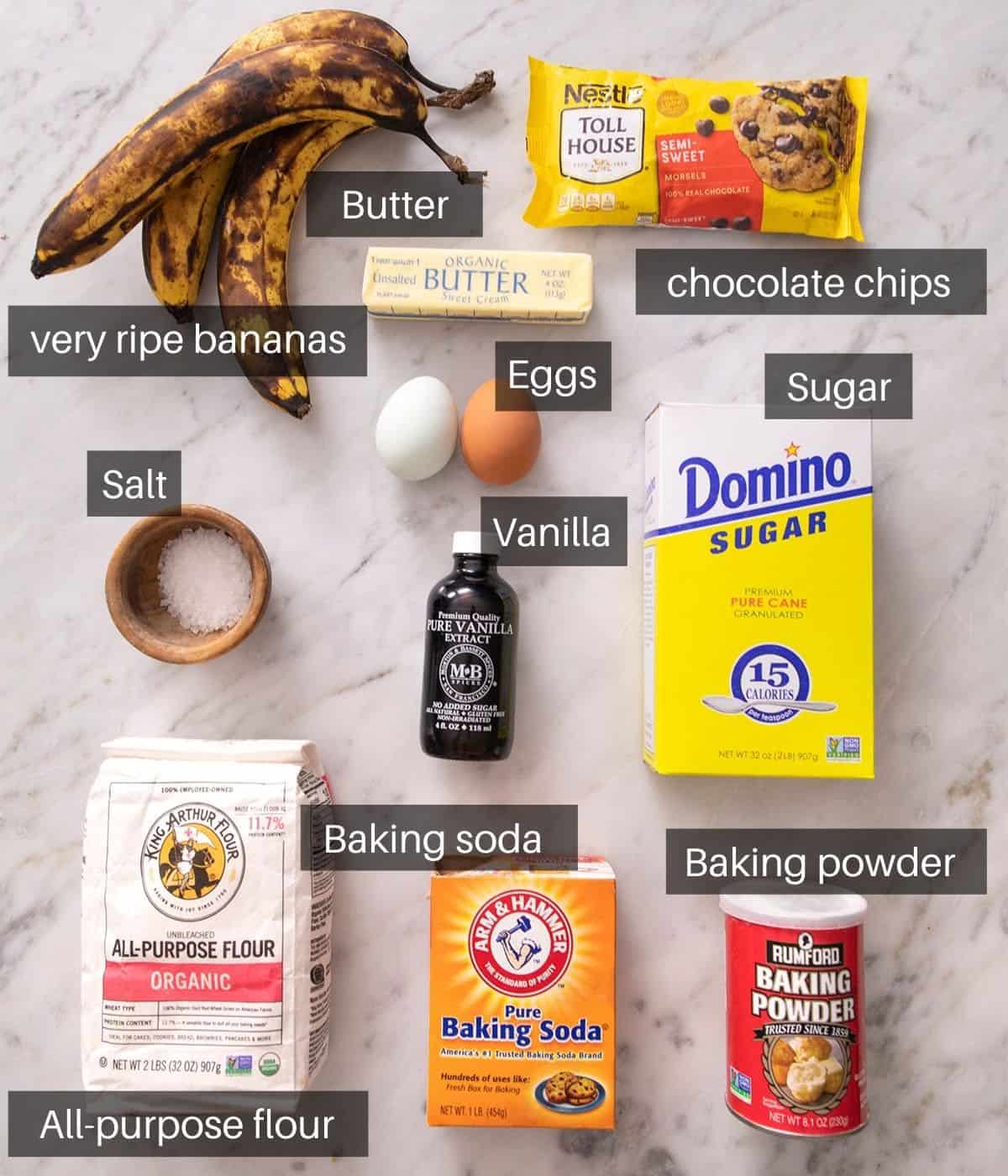 Bananas, but only really ripe bananas will do. They should be spotted with brown and black all over (like in the picture I provided) and very pliable so that they can be easily mashed. Sweet and mushy, overripe bananas are a great addition to baked goods.
Vanilla — if you want a true vanilla flavor, use vanilla extract, not vanilla essence.
Butter — remember to take it out of the fridge ahead of time so it can soften. Butter should be at room temperature so that it can be creamed with the sugar.
Sugar; I prefer white sugar but brown sugar also works well here.
Since banana bread is already quite sugary, I prefer to use semi-sweet chocolate chips. You can use milk chocolate or bittersweet chocolate; either will be delicious if you don't mind a little extra sweetness.
You don't need much salt, but it brings out the best in every dish, including sweet ones.
Ingredients
▢1 3/4 cups all purpose flour (215g)
▢1/2 tsp baking soda (6g)
▢1 tsp baking powder (4g)
▢1 tsp salt (6g)
▢3/4 cup granulated sugar (150g)
▢1/2 cup unsalted butter (113g) room temperature
▢2 large eggs
▢3 bananas very ripe, mashed, about 1 1/2 cups
▢1 cup semi sweet chocolate chips (170g)
▢1 tsp vanilla (5ml)
Recipe for Banana Bread with Chocolate Chips
Except for the sugar, combine all of the dry ingredients in a bowl and set aside.
Mix the butter and sugar with a mixer until it becomes fluffy.
Here are two pictures illustrating step three of making chocolate chip banana bread by combining dry and wet ingredients. Mix in the mashed bananas and vanilla extract after each egg has been added.
Fold the dry ingredients into the wet until almost combined, step 4.
Banana bread batter with chocolate chips, placed in a loaf pan, and ready to bake 5. Mix in the chocolate chips, setting aside a few for garnish.
Place in a greased loaf pan, top with additional chocolate chips, and bake until a skewer inserted in the center comes out clean, which should take about an hour.
A slice of chocolate chip banana bread sitting on a desk.

HOW TO MAKE THIS RECIPE LIKE A PRO
See how to "ripen" bananas at home in the oven if they are not quite ripe yet.
If you overmix the batter, you'll end up with tough bread.
The lumps in your mashed bananas won't ruin the dish, and they'll actually enhance the banana flavor.
Butter and eggs work best when they are at room temperature.
Want some different options? It's delicious with the addition of chopped walnuts or pecans.
If you want to turn these into muffins, I recommend using my recipe for Banana Chocolate Chip Muffins.
You can test if your banana bread is done by inserting a skewer into the center of the loaf and seeing if it comes out clean.

FAQ
HOW DO I QUICKLY RIPEN BANANAS?
Bananas can be ripened in the oven at 350 degrees Fahrenheit (180 degrees Celsius) for about 10 minutes, or until the skin blackens and the bananas are soft, if you need them for a recipe. When cool enough to handle, peel off the skin, put the flesh in a bowl, and mush it all up! If you have some almost ripe bananas and a little time on your hands, you can store them in a closed paper bag and speed up the ripening process thanks to the ethylene they naturally emit.
HOW DO I KEEP IT FROM EXPANDING IN DRYNESS?
To prevent the bread from drying out, wrap it in plastic wrap or foil. Even though chocolate chip banana bread doesn't dry out easily because of its soft and moist texture, wrapping it is still a good idea. It can also be stored in airtight containers or Ziploc bags.
Download This Article + Recipe in PDF Format.