These crescent rolls are buttery and fluffy, making them a perfect addition to any meal. They go great with dinner, are a great breakfast option, and make a great snack. No matter the occasion, once the rolls come out of the oven, everyone will congregate in the kitchen to enjoy the delicious aroma.
Making bread from scratch is simpler than ever. If you follow the advice and suggestions I've provided below, you'll have freshly baked rolls in no time.
Materials Required for This Recipe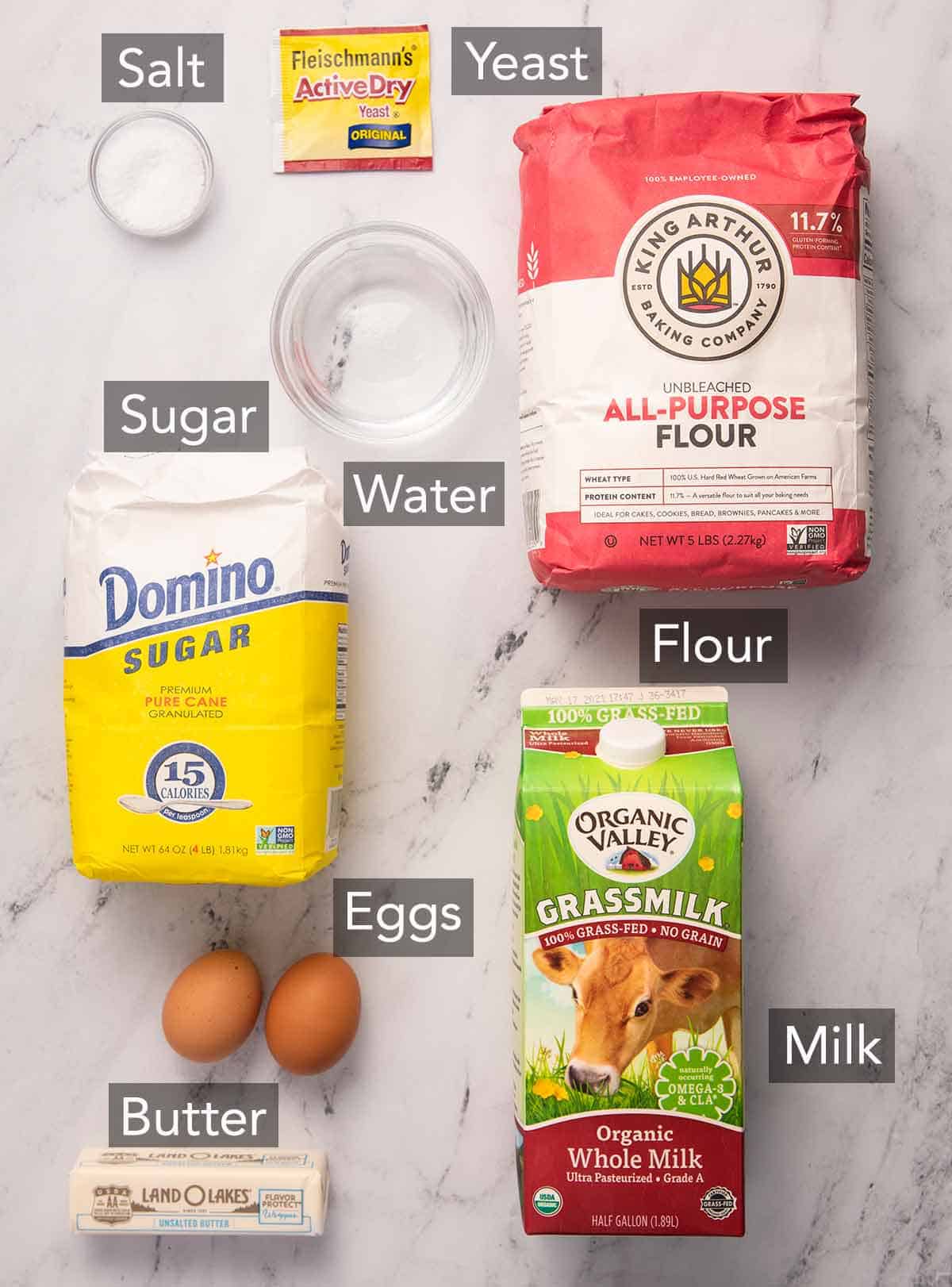 If you're using active dry yeast, check the expiration date to make sure it hasn't passed. Don't substitute dry yeast unless instructed to do so.
Water temperature between 110°F and 120°F is optimal. Yeast cannot survive in water that is too hot to drink. The yeast cannot ferment at temperatures below 30 degrees Celsius.
Milk is another key component for giving the crescent rolls their signature light and airy texture. Use whole milk, as it has more fat and will produce a more flavorful dough. Again, keep in mind that the yeast prefers temperatures between 110 and 120 degrees Fahrenheit.
Butter; the salt content of different salted butter brands varies, so using unsalted butter ensures uniform results. When working with room temperature butter, it is easier to incorporate into the dough. When you press your finger into butter at room temperature, it should leave a small indentation.
Ingredients
▢⅓ cup warm water 110°-120°F
▢¼ cup plus 1 teaspoon sugar divided
▢2 ¼ teaspoons dry active yeast 0.25-ounce packet
▢⅔ cup warm whole milk 110°-120°F
▢½ cup unsalted butter room temperature
▢2 large eggs room temperature
▢4 to 4½ cups all-purpose flour 480g to 510g divided
▢1½ teaspoons kosher salt
▢2 tablespoons melted butter
CRESCENT ROLL MAKING INSTRUCTIONS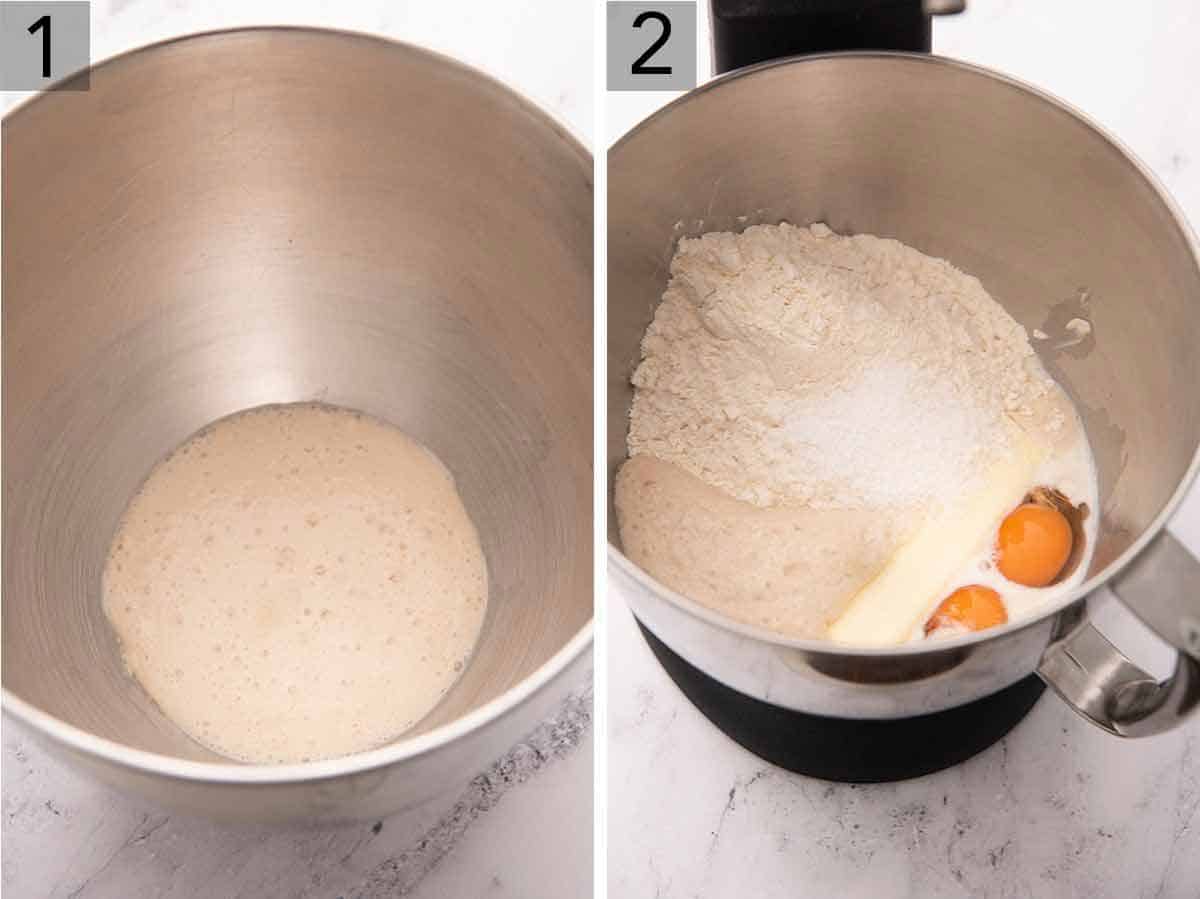 In a large mixing bowl, combine the warm water, sugar, and active dry yeast to activate the yeast. Allow it to sit for about 5 minutes, or until foamy.
Put in a mixing bowl the sugar, whole milk, butter, eggs, 2 cups of flour, and salt. Combine all of the ingredients thoroughly.
Add the remaining flour a half cup at a time while mixing on low speed, kneading until a soft dough ball forms and begins to pull away from the sides of the bowl. Form a ball and let it rise until it has doubled in size.
After the dough has doubled in size, cut it in half and roll each piece into a ball. Form a circle with a diameter of 12 inches, divide it into 12 equal wedges, and roll each wedge into a crescent roll.
After the crescent rolls have risen for about 30 minutes, place them on the prepared baking sheet.
Turn the oven to 400 degrees and bake for 10 to 12 minutes. Serve warm, having first been brushed with melted butter.
Expert Advice on Preparing This Dish
Make sure the oven is at its maximum temperature before adding the crescent rolls. The rolls will be underbaked or tasteless if the oven temperature is lower than 400 degrees Fahrenheit.
Do not put the dough in direct sunlight or other overly warm locations, as this will prevent it from rising. Your oven is perfect for letting dough rise with just the oven light on.
If you use too much flour, your rolls will be heavy. While a kitchen scale is ideal for measuring flour, you can also use measuring spoons and a knife to get fairly accurate results. If you measure the flour out of the bag, you'll probably get too much.
Although a stand mixer makes quick work of this dough, you can certainly knead it by hand if you prefer. It will take more time, but it can be done.
Instead of regular butter, you can use garlic butter as a finishing touch.
Mini cocktail smokies can be used to make pigs in a blanket by rolling the dough around them before baking.
Salt, which can kill yeast or slow down its ability to make the dough rise, should not be added to the mixing bowl until after the other ingredients have been added.
I give a ballpark figure for how much flour you'll need. If your dough is too sticky, just keep adding flour until it's the right smooth consistency for you.

FAQ

CRESCENT ROLLS AND CROISSANTS: THE SAME THING, OR NOT?
They are not the same thing at all. While both have a crescent shape, croissants are made with a special technique called laminating the dough in which butter is layered between layers of dough and the dough is rolled and folded several times. This flaky layered pastry is much more time-consuming to make than crescent rolls.
Why is it preferable to prepackaged cookie dough?
You probably didn't know this, but Pillsbury Crescent Rolls are dairy-free. Dairy is used to enhance the flavor and sweetness of our homemade version and to soften the dough. This tweak takes them to a whole new level!
Download This Article + Recipe in PDF Format.