One of my go-to morning meals is a toasted English muffin slathered in butter and jam or a savory breakfast sandwich piled high with sausage, bacon, and eggs. You don't have to be a master baker to make my English muffin recipe. You won't be able to stop making them once you discover how simple they are and how much better they taste (and healthier they are) than store-bought. They're soft, chewy, and have so much flavor.
What Ingredients Are Needed for This Recipe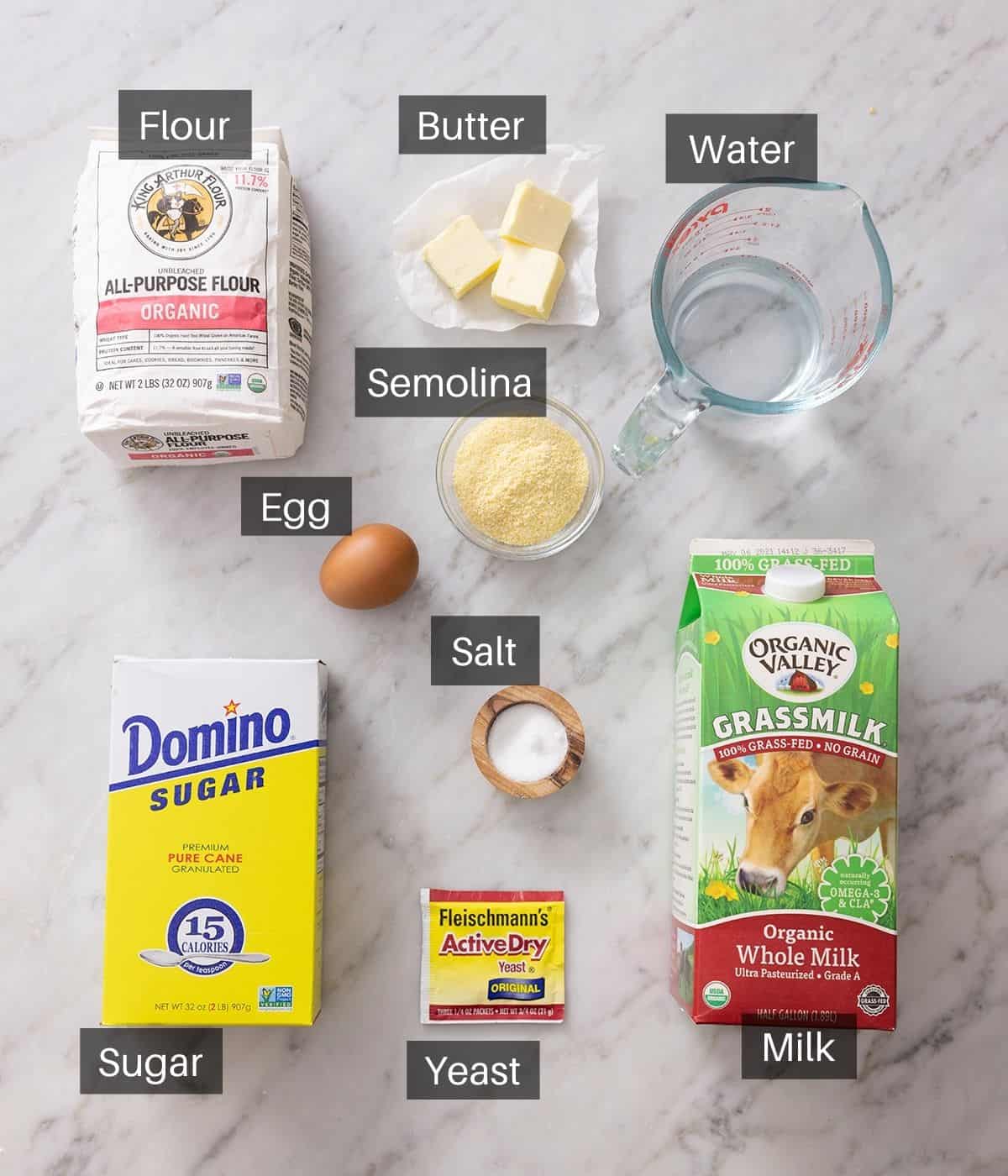 Ingredients for English muffins, seen from above; regular flour can be substituted for bread flour in this recipe.
Buttered muffins have the classic look and texture because the melted butter fills in all the cracks.
Yeast, either instant or active dry, must be rehydrated in warm milk and water before use.
Milk; whole milk imparts the best flavor and helps keep the muffins moist, but low-fat milk or dairy-free milk will work just as well.
Sugar, for flavoring and to help the yeast ferment. Brown sugar would alter the flavor, so it's not something I'd recommend using.
Season the dough with salt, as this will bring out the best in the other ingredients.
Before baking, the English muffins are dusted with semolina or cornmeal.
Ingredients
▢2 3/4 cups all-purpose flour (330g)
▢2 1/4 tsp yeast instant or fast acting one package
▢1 teaspoon salt
▢2 tbsp sugar
▢3/4 cup milk (180ml)
▢1/2 cup water (120ml)
▢3 tablespoons butter (42g)
▢1 egg large, room temperature
▢cornmeal for dusting or Semolina
DIRECTIONS FOR MAKING ENGLISH MUFFINS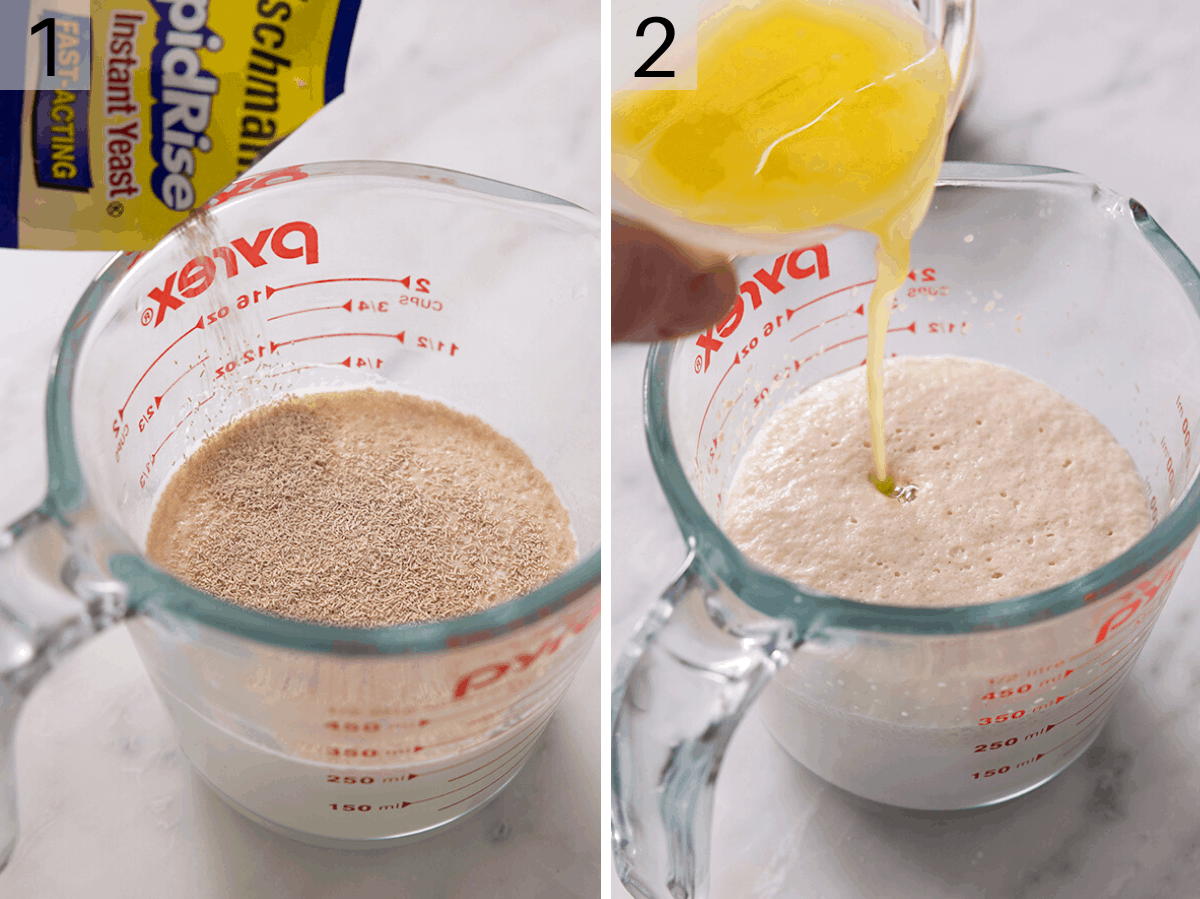 Warm the milk, water, and sugar before adding the yeast.
Add the egg and melted butter once the mixture is foamy (after 6-7 minutes).
Flour, salt, and yeast mixture should be added to the bowl of a stand mixer.
Knead the dough until it is smooth and elastic. Move to a large, oiled bowl and let rise until it has doubled in size.
Roll the dough out to a thickness of about 1 inch on a floured surface.
Use a 3-inch round cutter to make the English muffins.
Spread them out on a baking sheet that's been dusted with semolina. For another half an hour or so, cover and proof.
When you're ready to eat, cook the muffins for 5-6 minutes per side in a hot skillet.
HOW TO MAKE THIS RECIPE LIKE A PRO
The dough can proof for as little as an hour, but the longer you leave it (between 4 and 8 hours), the more flavor you'll get out of it.
Due to the dough's stickiness and general difficulty to work with, a stand mixer comes in handy for this recipe.
The texture of your muffins will improve if you substitute bread flour for all-purpose flour.
To hasten the rising process, place the dough in a warm area, but not one that is too hot or in direct sunlight.
The dough can be formed into rounds by hand if a round cutter is unavailable.
If the center of your muffins is too soft, baking them for an additional three minutes at 350 degrees Fahrenheit should do the trick.
Add a little bit of butter to the pan if your English muffins are sticking.
To get the best results when cooking the muffins, use a cast-iron frying pan or griddle.
You will need to cook them in batches; between each batch, remove any excess semolina with a pastry brush to prevent burning.
When the muffins are ready to be served, use a serrated knife to cut them in half.
FAQ
How come my dough is always sticky?
The sticky dough is intentional, as it is what creates the characteristic crevices in English muffins.
MAY I GET AHEAD AND SET THESE UP?
The dough can be made and allowed to rise in the refrigerator overnight. Wait an hour after bringing it to room temperature before proceeding. You could also bake the English muffins ahead of time and simply toast them before serving.
Download This Article + Recipe in PDF Format.