As soon as autumn arrives, I begin to long for pumpkin-flavored treats. It seems like every weekend brings a new pumpkin-themed dessert, from Pumpkin Snickerdoodles to Pumpkin Pancakes to Pumpkin Donuts. The pumpkin spice in these cinnamon rolls makes them perfect for breakfast or a midday snack. The best part is that you can make these pumpkin cinnamon rolls in advance of Sunday morning and still have time to sleep in.
Once the rolls are baking, the aroma of pumpkin and cinnamon will fill the house, giving Cinnabon a run for its money. These cinnamon rolls are made with actual pumpkin purée, not just pumpkin spice. This ensures that the pumpkin flavor permeates all of the cinnamon rolls.
WHAT YOU NEED TO MAKE THIS RECIPE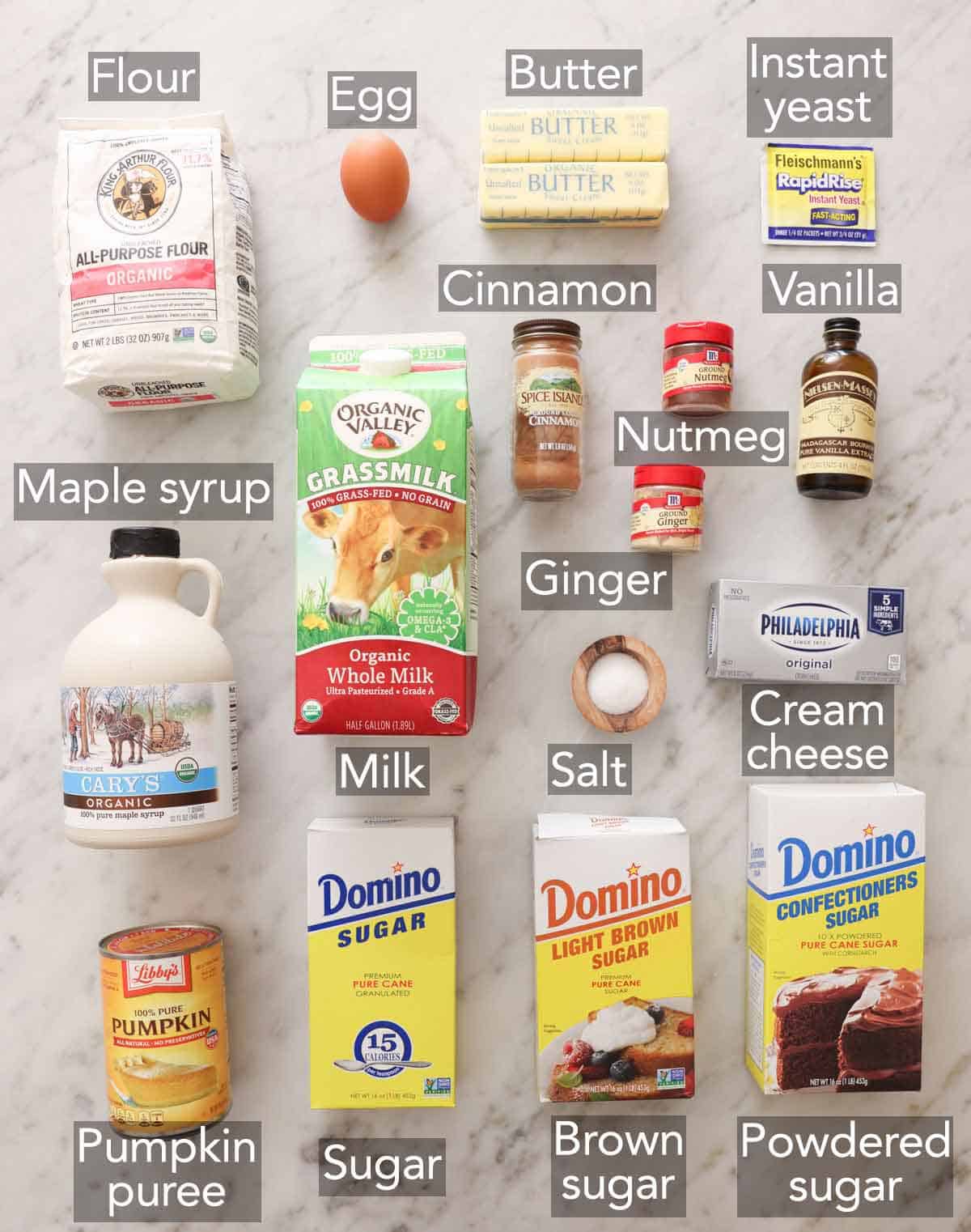 Rapid-acting yeast that can be added straight to the flour. Active dry yeast can be used by combining it with two teaspoons of sugar and milk that has been heated to 110 degrees Fahrenheit.
When shopping for pumpkin purée, make sure to avoid pumpkin pie filling at all costs, as it already contains salt and spices. Store brands are never as good, so I recommend Libby's. The rolls stay moist and tender thanks to the pumpkin purée.
Sugar — I employ both white and brown varieties. White sugar gives the cookie its sweetness and structure, while brown sugar gives cinnamon rolls its delicious molasses flavor. The softness of the rolls is enhanced by the addition of brown sugar. The filling of the rolls also calls for brown sugar.
Warming spices like cinnamon, ground ginger, and nutmeg give these pumpkin cinnamon rolls their distinctive flavor.
Use pure maple syrup, not pancake syrup, to make the cream cheese glaze.
HOW TO MAKE PUMPKIN CINNAMON ROLLS
1. In the bowl of your stand mixer, add the flour, sugars, yeast, spices, and salt, then whisk together to combine and set aside.
2. Add the pumpkin purée, egg, vanilla, and the warm milk and butter mixture to the flour mixture. Mix on low speed with the dough hook attachment until the dough is smooth and tacky, about 15 minutes.
3. Transfer the dough to a lightly oiled bowl, turning to coat it in oil. Cover and let rise in a warm place until doubled in size, about 1 hour. Punch down the dough and turn it out onto a lightly floured surface. Roll into roughly a 12×18-inch rectangle.
4. Spread the butter all over the dough, leaving about a ½-inch border on one long side.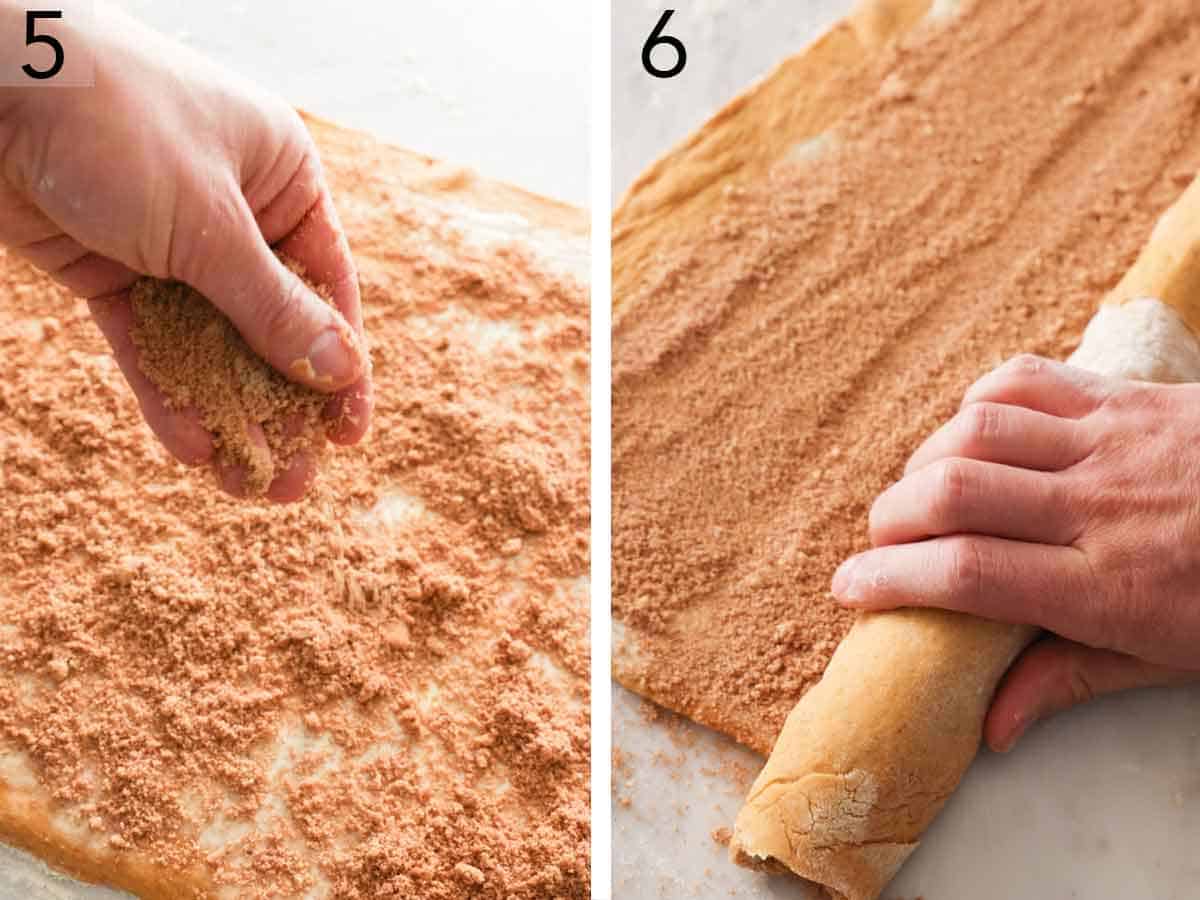 5. Mix the brown sugar and spices then sprinkle all over the butter and gently pat down with your hands.
6. Starting on the long side opposite the border, tightly roll up into a log.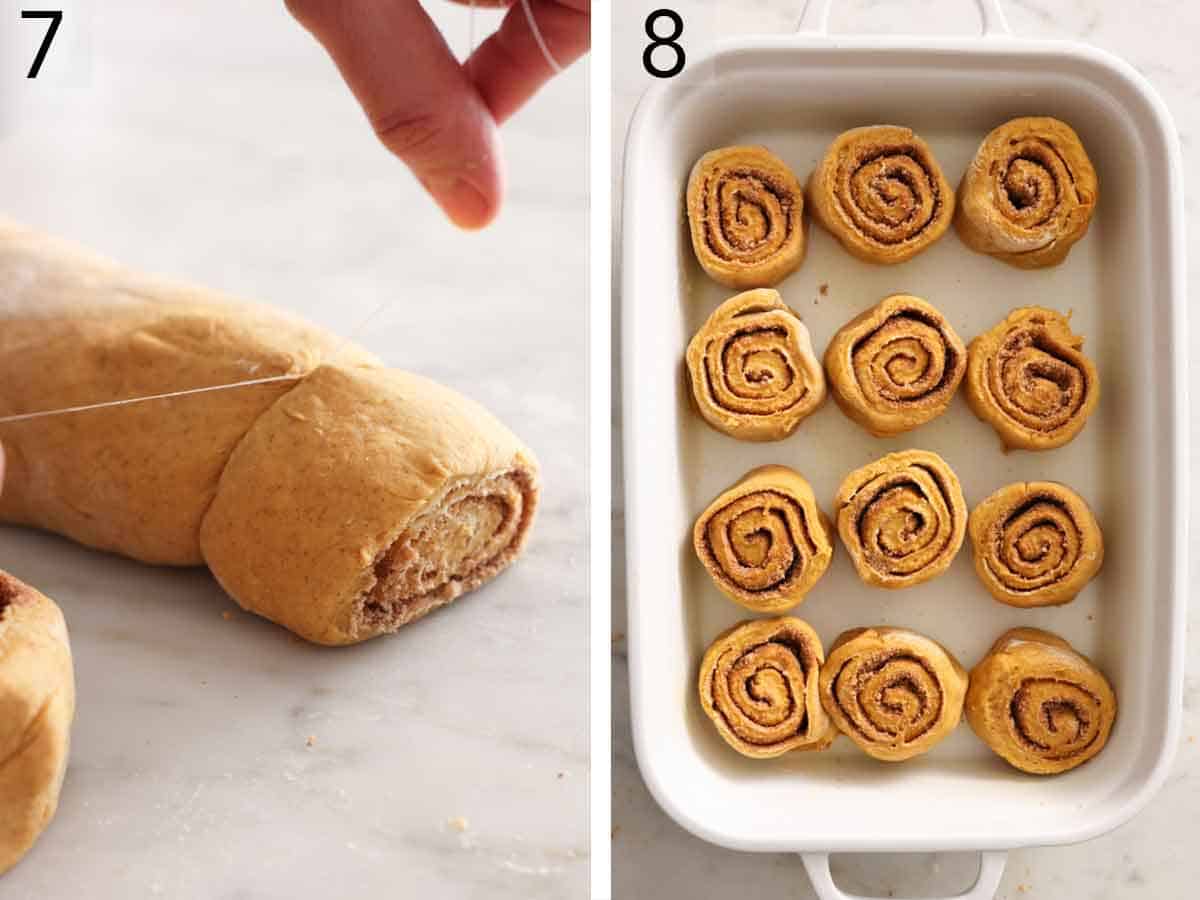 7. Cut the dough into 12 (1 ½-inch) thick rounds and place in a generously buttered baking dish.
8. Cover and let rise in a warm place until almost doubled in size, about 1 hour.
9. Bake for 30 minutes or until the tops are golden brown.
10. In a bowl, beat the cream cheese until smooth. Sift in the powdered sugar and mix in the maple syrup and vanilla. Spread the glaze over the warm rolls before serving.
PRO TIPS FOR MAKING THIS RECIPE
For the best pumpkin cinnamon rolls, use brown sugar that has been allowed to become soft and moist. Don't fret if your brown sugar has solidified; there's a simple solution. I explained in great detail how to soften brown sugar in an online post.
This post will teach you how to make brown sugar in case you find yourself in need of it.
Eggs at room temperature incorporate more easily and uniformly into dough. Put the egg into the bowl of hot water and let it sit for a few minutes. If you forget to take it o
Make sure you use the right amount of flour so your pumpkin cinnamon rolls aren't dry and dense. Most frequently, people will use too much flour than called for in the recipe. A scale is the most convenient tool for accurate flour measurement. If you don't have a flour sifter, you can use a spoon to aerate the flour before sprinkling it into a measuring cup and then leveling it off with a knife.
Putting the butter in a bowl and working it with a spoon or spatula until it's spreadable is the simplest way to get the butter onto the dough. Place on top of the dough and distribute evenly. This will prevent the dough from being torn apart.
Instead of using each individual spice, you can use pumpkin spice instead.
Use pure vanilla extract rather than imitation extract for the best flavor.
FAQ
HOW DO I MOST EFFECTIVELY CUT CINNAMON ROLLS?

After rolling the dough, the clean thread or unflavored dental floss makes for easy slicing. To neatly cut through dough, cut a long piece of thread, slide it under the dough, wrap it around the top, and then pull the thread in opposite directions. The rolls' perfect roundness is preserved using this method. You can use a knife, but the rolls might become lopsided or flattened. Don't worry if your cinnamon roll falls apart; it will still taste great.
Download This Article + Recipe in PDF Format.